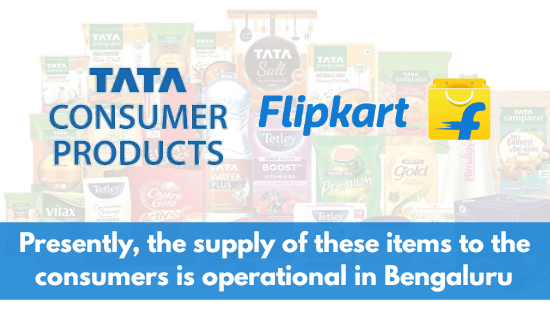 Lockdown Impact: Flipkart Collaborates With Tata Consumer Products To Provide Essential Items
To combat the shortage of essential food items, caused by the lockdown, and making them available to the consumers, Indian ecom giant Flipkart has collaborated with Tata Consumer Products.
Under this partnership, essential food and beverage items, offered by Tata Consumer Products, like – tea, coffee, spices, etc, will be available on the Flipkart platform.
Presently, the supply of these items to the consumers is operational in Bengaluru, with plans of expanding to Delhi and Mumbai in the next week.
Talking about this partnership with Tata Consumer Products, Kalyan Krishnamurthy (CEO Of Flipkart) said,
"Our partnership with Tata Consumer Products is a testament to our joint ambition and responsibility to serve the nation during these trying times. With the support of the government and local authorities, we are able to innovate unique distribution and supply chain models that enable us to serve communities in India."