Leveraging AI, Digital Analytics Platform Trailytics Is Helping Business With End-to-End eCommerce Marketing Management
With increasing internet penetration and changing consumer behaviour, eCommerce has grown exponentially over the years. The growth has also led many new-age entrepreneurs to take the growing eCommerce route that is backed by young demography and increasing internet and smartphone penetration. 
Digital-first in their approach, new-age entrepreneurs understand the importance of consumer behaviour and leveraging data for their growth.
Helping digital-first businesses decode and decipher digital commerce, Trailytics is an AI-enabled data aggregation and analysis platform that offers end-to-end eCommerce marketing management. Using the platform, businesses can get actionable insights, retail forecasting and advisory, helping them measure their strategies and optimize their eCommerce and retail-driven business.
According to Grant Thornton, e-commerce in India is expected to be worth US$ 188 billion by 2025.
Founding Team
In Oct. 2020, Anirudh Varshney, the co-founder with the big vision, transformed into a dynamic powerhouse, relishing the high-risk game that was the E-commerce market.
He is a strategic leader with a proven track record in managing fast-growing software development companies. Supported by his 4 friends, he led the team to create this platform for E-Commerce business at a global scale – Trailytics, which is a data automation solution provider that leverages AI to offer an Omnichannel analytical view-enhancing decision making and personal performance across the business. The team works closely together, and quite often, the tasks span across different areas.
In the current setup, Ashutosh Shukla is responsible for Digital Marketing solutions, Jay Gupta is Techno-Commercial Head, Adarsh Pandey leads the People & Operations front, and Ashish Rawat heads the Development domain.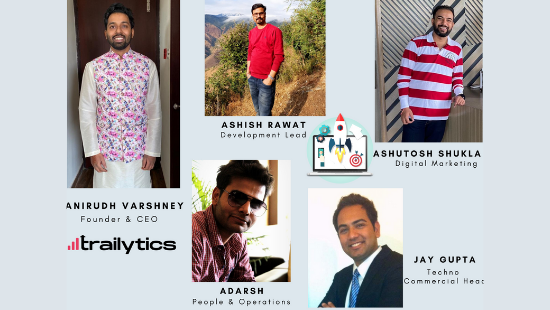 "Our purpose-built, AI-enabled data aggregation and analysis platform harness billions of data points from diverse web sources to provide retailers and consumer brands with key competitive insights on pricing, product assortment, and promotions in near-real-time. The future belongs to personalization pioneers, and we have created our platform like such. Our platform provides deep-dive details on 35+ KPIs segregating them into different geographies, Platforms and data from internal sources," says Anirudh Varshney in an exclusive conversation with The StartupLab. 
The end-to-end eCommerce marketing management offers its services globally to Small, Medium and Large Enterprises looking forward to accelerating their E-Commerce performance or stepping into the eCommerce market for the first time.
Trailytics | Using AI to Decipher Digital Commerce Data
The platform's strength lies in having a strong combination of technology and eCommerce experts working in tandem for a comprehensive approach towards the growth of its clients.
Enabling businesses to intercompare data sets on a single dashboard, the data automation solution provider also integrates with Market places, social media platforms as well as advertising portals, allowing them to understand the campaign performance parameters. It provides a supply chain management process through an integrated process showcasing various KPI's which has led to Trailytics's tremendous development and profitability in India since its beginnings. 
Trailytics' visual dashboard offers core digital services to accelerate creativity and growth with technology to power 360-degree value at a larger scale. 
Present Growth And Future
Working with a team of 50+ members, comprising eCommerce experts, Data Scientists, Analysts, Content Writers, and Creative Designers, the startup can help you launch and optimize Products Price, Promotion, Placement, and growth strategies, on the popular eCommerce Sites.
The team of experts comes with vast experience across brands, markets, and platforms to ensure that your brand has all the tools to remain ahead of the curve. Trailytics has turned companies that you couldn't find on Google into companies racking in over Rs 100,000 in new sales from organic SEO.
Trailytics is quickly gaining speed, and the platform is partnering with the world's largest brands to improve its digital presence and accelerate sales. Catering to direct-to-consumer brands, FMCG, retail, pharma companies, some of its key clients include the likes of P&G, Nivea, Wipro, MTR Foods, VIP, Touchstone Group, among many others.
Talking about the future, Anirudh Varshney says,
"We keep an ideas list instead of a To-do list and focus on the big picture for the rest of the day. At Trailytics, we push Ourselves. and we push Technology. Being trusted by leading world organisations, we aim to make Trailytics a pioneer in the E-Commerce Analytics marketplace, providing a robust and simplified solution."
For more stories of startups, click Startup Stories.
Follow us and connect with us on Instagram, Facebook, Twitter and LinkedIn.