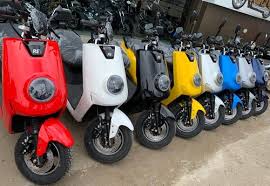 IoT enabled e-scooter 'BattRE' launched in India
Good news for e-vehicle lovers. Jaipur based e-mobility startup, BattRE, has launched an IoT enabled e-scooter, priced at Rs 79,999.
Asserting to be the second IoT enabled scooter of India, BattRE is offering a year of subscription to the cloud storage with this scooter(included in the price).
25 km per hour is its top speed and it comes with a 48V 30 Ah lithium-ion battery. This e-scooter can run up to 85km on a full charge (takes 2.5 hours to charge).
Some features in this e-vehicle include anti-theft alarm and on-call alerts, speedometer, voice-enabled app, AI suggestions based on ride behavior.
They have collaborated with Amazon to deliver this e-scooter. The e-scooter will be available on Amazon.in and will be home delivered.