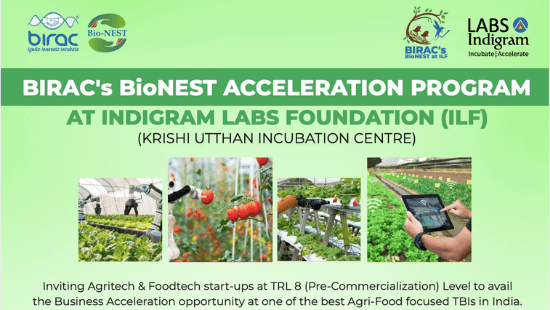 Indigram Labs Foundation Announces BIRAC's BioNEST Startup Acceleration Program For Pre-Commercialization Level Agritech/Foodtech Startups
Indigram Labs Foundation, a leading Agritech and Foodtech focused incubator, on 6th January 2021, has announced the launch of the BIRAC's BioNEST Startup Acceleration Program – an acceleration program for pre-commercialization level entrepreneurs working in Agri-Food domains. 
The applications opened on 5th January and will end on 31st January 2021. 
Biotechnology Industry Research Assistance Council (BIRAC), a Section 8 'Not-for-Profit Company' of Government of India, set up as DBT's interface agency, to serve as a single-window for emerging biotech companies, has initiated a unique acceleration program to address this issue.
The current program is a sector-focused acceleration program for TRL8 (Pre-Commercialization) level startups conducted through BIRAC's BioNEST scheme at Indigram Labs Foundation.
The vision is to hand-hold the startups at the pre-commercialization stage so that they successfully graduate to the scale-up stage.
The Acceleration Program is designed to provide rapid scale-up, fundraising, market networking and mentoring assistance for the selected startups.
Commenting on the launch, Dr. Saket Chattopadhyay, Manager, BIRAC's BioNEST at ILF, said,
"Over the last four years, our incubatee companies have innovated and developed successful businesses right in front of our eyes. We are thankful to them for solving national problems in Agri/ Food/ Cleantech, and we had the good fortune of having incubated such success stories during these years.

Assisting startups in successfully developing and executing go-to-market strategies is a strength of ILF. We are increasing our focus on accelerating mature enterprises in Agri-Food domain, and the program is one of the steps in that direction."
About Indigram Labs Foundation 
Founded in 2015 with its headquarters in New Delhi and promoted by Indian Society of Agribusiness Professionals [ISAP], Indigram Labs Foundation is a technology business incubator [ TBI] with thrust on Agriculture-Technology & food processing, Clean Energy and Automation, Rural focused Healthcare and Education. Backed by NSTEDB, Department of Science & Technology, Government of India, Indigram Labs provides infrastructure, networking, technical, IPR and financial support to its incubatees.
It has collaborations with leading scientific research organizations, academic institutions, venture capitalists and accelerators in India and abroad.
Indigram Labs has so far incubated over 50 startups, with another 18 in the pipeline. The incubated companies have generated revenues of more than USD 25 million in FY 2019-20 and provided full-time employment to more than 1000 people.
Some of the prominent incubatee companies in its portfolio include Intello Labs, New Leaf Dynamics, Agriwatch, Farmley, Farm Guide and Tractor Junction among others.
To apply, click here.
For more information, please visit Indigram Labs.