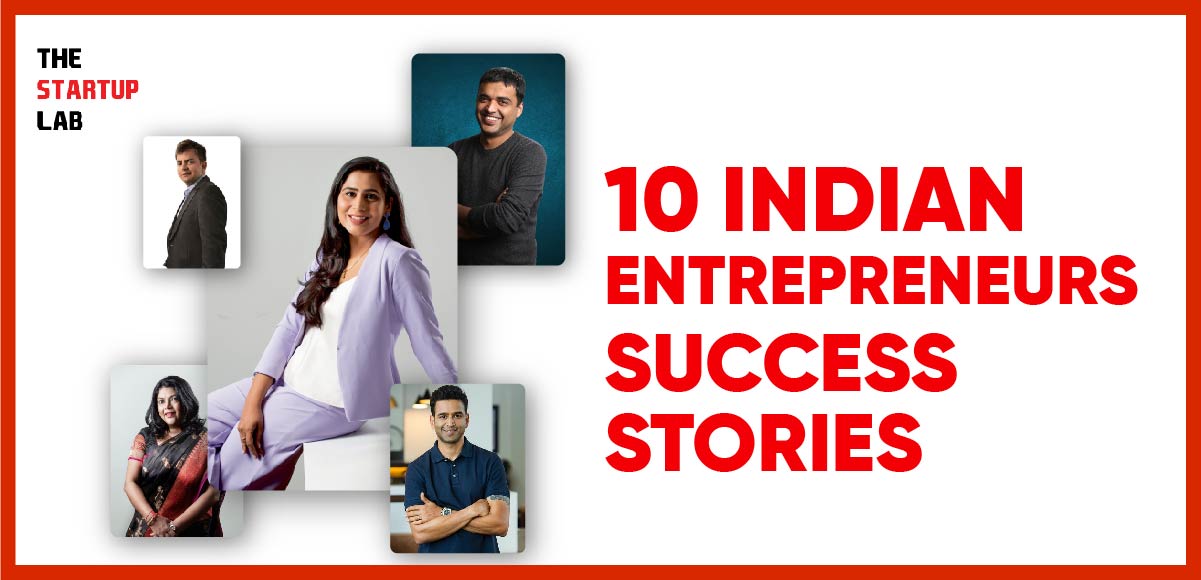 Top 10 Indian Entrepreneurs Success Stories
In the evolving landscape of global entrepreneurship, Indian entrepreneurs are also leaving their mark, which is quite evident from their success stories. India's startup ecosystem is globally renowned, securing its position as the 3rd largest worldwide. 
Just putting it out from a numbers standpoint, our country has nurtured over 60,000 startups, reflecting the nation's rapid development in this domain. 
This growth is fueled by factors such as a young demographic and tech-savvy population, a growing middle class, and a conducive government environment, taking Indian entrepreneurs to remarkable trajectories.
What about women entrepreneurs, a question that you may ask? To answer it in a few words, the participation of women entrepreneurs has seen a rapid surge.
According to reports, seven out of 100 entrepreneurs in India are women. While this figure might be comparatively smaller in relation to their male counterparts, a host of government initiatives and policies centered around women's empowerment in business are primed to catalyze the entrepreneurial drive among Indian women.
Anchoring India's prominence further, Bangalore-Karnataka claims a prestigious spot among the world's top 30 startup cities in the 2022 Startup Genome Project ranking. Advancing by one spot from the previous year, the city has positioned itself at #22. Delhi is the standout performer, leaping by 11 places compared to its 2021 position and securing a spot among the top 30 for the first time at #26. 
I am sure these statistics have left you pumped up but wait! To inspire the new-age Indian entrepreneurs, The StartupLab has prepared a list of 10 Inspirational Indian Entrepreneurs Who Have Redefined Success.
Highlighting their remarkable achievements, the article showcases their growth as an individual. 
However, don't take the net worth figures as absolute. As these numbers are dependent on various factors such as business developments, investments, and market fluctuations, they can vary.
Entrepreneur with 100 Cr+ net worth
1. Ghazal Alagh – Mamaearth:
Ghazal Alagh, alongside her husband Varun Alagh, co-founded Mamaearth in 2016. 
Born on 2nd September, Ghazal Alagh spent her formative years in Chandigarh, where she completed her schooling. Subsequently, she pursued her BCA degree from Punjab University, followed by post-graduation studies before entering the professional sphere.
Ghazal Alagh, an Indian businesswoman, has left an indelible mark as the co-founder of MamaEarth, a brand specializing in baby health products. 
Ghazal Alagh's net worth in Indian rupees is estimated to be around Rs. 142 crore.
Entrepreneurs with 1,000 Cr+ net worth
2. Puneet Gupta – Astrotalk:
Astrotalk is a modern take on the conventional astrology journey. Co-founded by Puneet Gupta, Astrotalk bridges the gap between traditional astrology and contemporary technology. It  provides people easy access to experienced astrologers that too from the comfort of their homes,
As the effect of COVID-19 started slowing, his startup witnessed a remarkable surge in demand. According to reports, Puneet's Astrology startup yields an impressive 30 lakh rupees per day. Having onboarded skilled astrologers, his network now spans over 1600 experts.
While specific details about Puneet Gupta's net worth and current status might not be readily available, it is estimated to be around Rs 1600 crores.
Astrotalk, which is a product of Gupta's vision, highlights the power of combining innovation and age-old practices to create meaningful and relevant services in the digital age.
3. Deepinder Goyal – Zomato:
Deepinder Goyal, a computer science graduate from IIT Delhi, along with co-founders Gunjan Patidar, Akriti Chopra, and Pankaj Chaddah, founded Zomato in 2008. What he started as a simple restaurant discovery platform gradually evolved into a comprehensive food delivery and restaurant services powerhouse.
A global giant now, Zomato has enabled foodies to explore menus, read reviews, and place orders online. The company went public in 2021 and now has a value of 97.95 INR per share (as of 13 September 2023).
According to corporate shareholdings disclosed for June 30, 2023, Deepinder Goyal holds a 4.31% stake in Zomato, amounting to a net worth exceeding Rs. 3,395.4 Crore.
Entrepreneurs with 5,000 Cr+ net worth
4. Ritesh Agarwal – Oyo Rooms:
Ritesh Agarwal started Oyo Rooms in 2013. His journey began as a young entrepreneur hailing from a small town in Odisha. Initiating his entrepreneurial voyage, he dived into the world of business by selling SIM cards at the tender age of 13. 
After completing his education at St. Johns Senior Secondary School in Kota, Rajasthan, Agarwal transitioned to Delhi to pursue higher studies.
There he founded Oyo Rooms which revolutionized the budget accommodation sector by standardizing and upgrading budget hotels to offer quality stays at affordable prices. 
After dominating the Indian market, OYO now has a presence across several countries in the world, 
Although it faced challenges in recent times, Oyo continues to innovate and adapt to changing travel trends.
Ritesh Agarwal's net worth in 2020 was estimated to be approximately $1.1 billion (Rs 8300 crore+), as recognized by the Hurun Rich List., making him the youngest self-made billionaire globally. 
5. Vijay Shekhar Sharma – Paytm:
Vijay Shekhar Sharma founded Paytm in 2010, initially as a mobile recharge platform. Over time, with his vision, Paytm, transformed into a comprehensive digital payments and financial services platform, catering to a wide range of transactions.
Vijay Shekhar Sharma, born in Aligarh in 1978, was raised by his parents Sulom Prakash, a schoolteacher, and Asha Sharma, a housewife. Despite attending a Hindi medium school, Vijay displayed exceptional academic prowess and completed his secondary education by the age of 14. At 15, he gained admission to Delhi Technological University, immersing himself in the computer lab where his affinity for technology burgeoned.
During his university time, Sharma collaborated with a classmate and co-founded an online platform offering web-guided services. This venture eventually led to a profitable sale to a business entity. As of September 2022, Vijay Shekhar Sharma's net worth is estimated to be around $1.1 billion.
Entrepreneurs with 10,000 Cr+ net worth
6. Bhavish Aggarwal – Ola Cabs:
Bhavish Aggarwal founded Ola Cabs in 2010 after experiencing a challenging taxi ride during a trip. The Ludhiana, Punjab-born entrepreneur holds a degree in computer science and engineering from IIT Bombay.
Ola Cabs disrupted the traditional taxi industry by allowing users to book rides with ease by providing them with a user-friendly app.
With major Indian cities under his coverage, Ola now has expanded to international markets and diversified its services to include bike taxis and electric vehicles. And it continues to shape the ride-hailing sector globally.
As per a list released jointly by IIFL Wealth and Hurun India in 2022, Bhavish Aggarwal has a wealth of Rs 11,700 crore.
7. Sriharsha Majety – Swiggy:
Nandan Reddy, Rahul Jaimini, and Sriharsha Majety founded Swiggy in 2014, leveraging technology to address the challenges of food delivery.
Sriharsha Majety attained his Bachelor's in Engineering from BITS Pilani in 2008, and he subsequently went on to pursue a Master's in Physics. Although he also undertook the CFA Programme, he soon discerned that his passion lay elsewhere. This realization led him to acquire a Post-Graduate Diploma from IIM, Calcutta, where he also assumed the role of a recruitment coordinator. 
Going head to head with Zomato, his company, Swiggy, redefined food delivery as it optimized the delivery process, ensuring a wide variety of restaurant options for users. 
Not just entrepreneurship, Majety possesses an adventurous streak as well. There are reports that he embarked on an over 3,000-kilometer cycling journey across European countries like France, Italy, Spain, and Portugal.
In January 2022, Swiggy achieved an impressive valuation of $10.7 billion (equivalent to over Rs 87,500 crore) through its most recent funding round. Although the exact net worth details for 2022 are not yet confirmed, Majety's net worth was estimated to be around Rs 14,000 crore in 2020. 
8. Kunal Shah – CRED:
Kunal Shah's journey as an entrepreneur began with humble origins. With his middle-class roots, Shah grew up in Mumbai, India. From an early age, he had an inclination towards technology and business concepts. His drive and curiosity paved the way for a remarkable entrepreneurial path.
Kunal Shah is renowned for co-founding FreeCharge in 2010, an innovative mobile payments platform that allowed users to recharge prepaid mobile phones and pay utility bills online.
The platform gained massive popularity due to its unique model of offering cashback rewards for transactions, effectively turning recharge expenses into savings. This innovative approach played a pivotal role in FreeCharge's rapid rise.
In 2015, Snapdeal, an Indian e-commerce company, acquired FreeCharge for a substantial amount, showcasing the impact of Shah's entrepreneurial acumen. Following the acquisition, Kunal Shah embarked on a new venture called CRED in 2018.
Cred, a fintech platform, is built on Kunal's entrepreneurial legacy that rewards users for timely credit card bill payments. Targeting creditworthy individuals, it provides users with exclusive offers and benefits.
Shah's visionary approach and success as an entrepreneur have translated into substantial financial gains. His net worth surged over the years, and as of my last knowledge update in September 2021, it was estimated to be around $15,000 crore (approximately $2 billion).
Entrepreneurs with 20,000 Cr+ net worth
9. Nithin Kamath – Zerodha:
Nithin Kamath co-founded Zerodha in 2010, aiming to democratize investing and trading by offering low-cost brokerage services. 
Zerodha disrupted the brokerage industry by introducing a flat fee structure and user-friendly trading platforms. Although bootstrapped, Zerodha achieved an impressive valuation of $2 billion (equivalent to Rs 15,612 crores) in 2022.
Kamath's trajectory from earning a modest Rs 8,000 per month at a call center to generating millions monthly stands as a source of inspiration. 
Kamath's vision has led Zerodha to become India's largest retail stockbroker, with millions of clients and a significant market share. As per Forbes, Nithin Kamath boasts an estimated net worth of $2.7 billion (Rs 22,000 Cr+).
10. Falguni Nayar – Nykaa:
Falguni Nayar, a former investment banker, founded Nykaa in 2012, capitalizing on the growing online beauty and cosmetics market in India.
Offering an extensive range of products online, Nykaa disrupted the beauty industry, supported by exceptional customer service and expert advice. In 2022, Falguni secured a place on the Forbes India Rich List, ranking 44th. Her net worth is reported to be $4.08 billion (Rs 32,951.71 crore).
Nykaa has expanded its product offerings, including fashion and personal care.
With its strong position in the e-commerce sector, the company went public and now has a value of 148.25 INR per share.
FAQ 
Q 1: Who is the number one entrepreneur in India?
A: Determining the "number one" entrepreneur in India can be subjective, as it depends on various factors like industry, net worth, and impact. However, some of the most well-known and influential entrepreneurs in India are Kunal Shah (Cred), Nithin Kamath (Zerodha) and Bhavish Aggarwal (Ola Cabs).
Q 2. Are there any notable female entrepreneurs in India?
A: Yes, there are several successful female entrepreneurs in India, including Kiran Mazumdar-Shaw (Biocon), Falguni Nayar (Nykaa), and Radhika Ghai Aggarwal (ShopClues), among others. 
Q 3. What challenges do young Indian entrepreneurs typically face?
A: The most common challenges young entrepreneurs typically face are limited access to capital, lack of experience, and the need to prove themselves in a competitive business environment. Building credibility and securing funding can be particularly challenging for those starting at a young age.
Q 4. What are some promising industries for entrepreneurs in India?
A: Promising industries for entrepreneurs in India include technology, e-commerce, renewable energy, healthcare, and fintech.