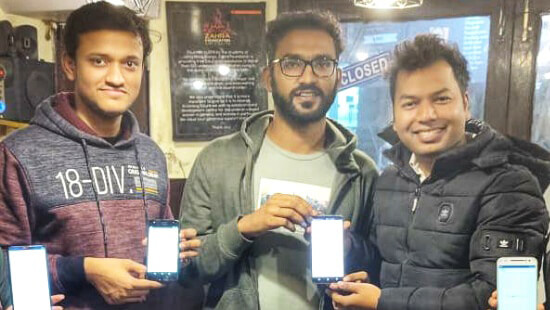 How RetailersBook Is Riding The Wave Of The B2B Supply Chain In South Zone-Delhi
COVID-19 pandemic has completely transformed the way we interact with each other. With lockdowns and social distancing being the 'new normal', the world and pushed towards its dependency on the internet for its day to day activities.
While e-commerce platforms have played a major role in ensuring that the demand for essential needs is met for everyone during the COVID phase, the digital B2B e-commerce sector has suddenly become the most promising sector for various tech giants and entrepreneurs to enter into. 
B2B e-commerce is the future trend and while most tech giants are planning to seize the opportunity to set up their B2B enterprise, Retailersbook and its customer-centric approach are not only shining at the moment but also completely changing the way Kirana store owners interact with distributors and wholesalers.
So what makes Retailersbook the most popular B2B platform for Kirana store owners? Let's find out.
Retailersbook, the most promising B2B platform for Kirana store owners.
The pandemic phase has pushed Kirana store owners to adopt digital means for the procurement of their goods and several wholesalers and B2B platforms are trying their best to woo them with offers and discounts. A popular news platform Livemint has published an article highlighting this very fact that this is the best time for B2B platforms to gain a stronghold in the market.
Now, with so many competitors at ply, how does Retailersbook manage to stand out among the crowd and manage to maintain a healthy customer base? It's due to the simple fact that Retailersbook does not simply act as a supply chain channel between Kirana store owners and wholesalers but provides customer-centric solutions. It solves, not just the immediate problems for its customers but also brings in long term benefits as well.
2hrs Delivery: The Game Changer
30-minutes pizza delivery has been quite a popular thing for quite some time, and 1-day delivery schemes on B2C e-commerce sites quite a common thing too, but 2 hrs delivery in B2B e-commerce is something as new as this domain itself.
While it may sound like a cliché marketing gimmick, it creates a much deeper impact on the current FMCG supply chain ecosystem. There are four important facets through which Kirana store owners can benefit from this scheme:
A Shorter ROI cycle
Minimal dependency on credit
Eliminate space issue with reduced inventory size
Ability to sell a more diversified product variety
Before you can understand how Retailersbook offers all the above benefits to Kirana owners, let's get an insight into how a Kirana store works, and review the basic math involved in the day to day operations of a Kirana store.
An average Kirana store has to plan the goods to be procured based on the following factors:
Items with maximum margin and maximum demand
Items with maximum margin and average demand
Items with average or low margin but extremely high demand
Items with average margin and average demand
Based on these four deciding factors, a Kirana owner has to plan on how much he/she can invest for goods procurement so that a reasonable amount of ROI+profits can be achieved before the next cycle of goods procurement. This cycle is usually 10 to 15 days long. Kirana owners have to stock up goods for 10-15 days, based on the latest buying trends and regional preferences.
Stocking up goods in large quantities can result in some portion the stock remaining unsold, damaged, or expired by the next procurement cycle. This is a direct loss to the Kirana owner which roughly sums up to 10% of its total purchase.
Now, with the option of 2-hrs delivery, Kirana owners can completely reduce this loss by ordering goods on an on-demand basis. Rather than ordering goods for 1 week or 15 days in advance, they can place an order for goods frequently or on a daily or bi-weekly basis based on the dynamic demand pattern and gain better ROI within a shorter time hence maintain a shorter ROI cycle.
In traditional schemes, retail owners usually depend heavily on credit facilities extended by their distributors which in turn encourages them to place bulk orders. These credits usually come with add-on charges.
For Example:
A Kirana store has a daily requirement for 1 box of cold drink which costs Rs. 1000. So, the shopkeeper has to order 7 boxes of cold drinks for the week. When purchased on a credit basis, say the Kirana owner has to pay half of the amount in advance, and the other half at the end of the week along with extra Rs.130 per box as credit charges. So, the total charges that the Kirana owner has to pay for the cold drinks for 1 week of supply is (1000×7)+(130×7) which totals to Rs. 7000+ 910= 7910.
By ordering a box of cold drink from Retailersbook and getting it delivered in just 2 hrs, the Kirana owner just has to pay Rs. 1000 per box or less. With the ROI earned from the cold drink each day, he/she can place the same order for the next day hence eliminating the need for any credit
A 2-hrs delivery scheme, allows the retail owners to place small orders based on dynamic demand and avoid hoarding goods that will eventually remain unsold or get damaged while lying in their store. With a shorter ROI cycle, retail owners can fulfill all his/her goods requirements and have minimal dependency on credit.
Placing small orders also addresses the third issue that usually all Kirana store owners face…SPACE!
This image perfectly represents what an average Kirana store looks like. It's easily imaginable, how difficult it must be to keep track of every item in the inventory. Hence it's common that some items go out of stock or get expired while lying heavily dusted on the shelf. Limited space also restricts the retailer form having a wide variety of products and brands at the shop and has to bifurcate its choices to only limited products from each category.
With 2 hrs delivery and smaller order size, the Kirana owner no longer needs to stock up goods in this manner. He/she can now accommodate more variety of best selling items and a more diverse category of products in the same space.
With smaller inventory in the store, it will be much easier for the retailer to keep a track of each item in the store and place the order for a new set of products when the demand comes in. So, in a process of eliminating the issue of space, another important issue for Kirana owners i.e having diversified product range is also taken care of.
While all the B2B platforms are trying to bring offline retail supply chain to a digital platform, it hardly makes any effort in understanding the day to day problems faced by small SMEs and Kirana owners.
Retailersbook, on the other hand, focusses entirely on solving these problems through its innovative technology and well-planned strategies to address issues in the current supply chain ecosystem. Be it building its innovative and strong last-mile distribution network through in-city warehouses or through offering 2-hrs delivery for its buyers,  it always aims at improving the dynamics of the B2B network and its success in South Delhi region only affirms its caliber in establishing itself as a prominent name among its peers.
Want your startup's story to get featured? Contact us.
Stay close to the Indian Startup Ecosystem on social media, connect with us on Instagram, Facebook, and LinkedIn.