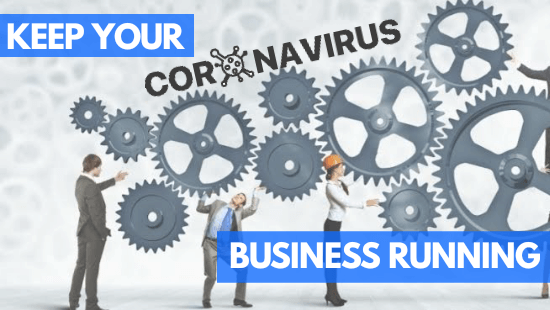 COVID-19 Impact: How To Keep Your Business Running In Uncertain Times
The only thing predictable about the business world is its unpredictable nature.
Yeah, that's true. You can ask business professionals, they will tell you the same.
Those who fail to plan for the unpredictable times, plunge in this business world.
How To Keep Your Business Running In Uncertain Times
The whole world is fighting the deadly coronavirus and with a global shutdown, the world economy is quivering. This global pandemic has provoked a period of high uncertainty, also leaving the businesses to deal with its impact.
Now, founders have to think both fast and slow to lessen the inevitable disarray, caused by the pandemic. And to bear with the present situation, the founders have to come up with some good policies, to be executed for the next 21-30 days, so that their business remains in a decent state.
Not only for the next 21-30 days, but founders now have to plan for the next 12-18 months, to remain ready for any uncertain situation that may arise in the future.
Keep Your Business Running In A Global Pandemic
This blog aims to provide business professionals, especially startup owners, knowledge on how to deal with any crisis, similar to the present situation so that their business remains prepared and unaffected.
The following points are defined keeping in mind the COVID-19 situation. However, you can employ these principles for any uncertain situation or global pandemic, that might occur in the future.
1. Assess The Situation
The first thing, you as a Founder should do to keep your business alive is to assess the situation your business is in.
With the current situation in mind and its impact on the future of your business, evaluate every facet of your business. Be it be cash flow, operating and non-operating assets, income statement employees, etc, just keep everything in check.
2. Plan For The Future
Change before you have to. Take control of the predicament and prepare yourself for the forthcoming 12-18 months. Prepare a 'Worst Case Scenario' chart, with two columns in it. The first is 'Worst Case' and the second is 'Response'. Fill the chart with scenarios that might happen, like- what if the lockdown goes beyond 3 months. This is the moment where you can prepare yourself for the uncertain future.
3. Bring The Team Together
The present time is tough, but it's important that we stay connected and keep things going.
So, engage with your team on group chat or another medium possible to discuss some important things.
Financially it's a tough time for every business. So, plan out some rigorous yet necessary policies, to enable the company to sustain operations.
Make important decisions on staffing, operations, cost reductions, etc. Also, keep yourself updated with government directives related employees salary, firing, etc.
4. Thorough Financial Restructuring
Businesses thrive on cash, but in the current uncertain times, the need of the hour is to maximize the cash available by financial restructuring.
Depending on the availability of cash runway, restructure the way your company spends cash.
With companies projecting a 20-100% drop in business for the next few weeks, have a plan that can sustain that drop.
For instance, keep marketing costs low until things come close to normal, plan out a way to reduce working capital, high executives can take a salary cut, etc.
Also read here: financial projection for startup
5. Funding
Fundraising is not only dependent on the current business situation, but also on the situation of the market. And it's quite apparent, no investor is inclined to invest in these perilous times.
But, if funding is the only substitute left for you, to keep the company running, initiate with your existing investors. Subsequently, move on to investors you have approached earlier in your journey. This will save you time and increase your odds of procuring the needed funds.
Note: Be specific in your reasons for why you require funding.
6. Risk Management Team
Create a team, committed to proactively managing the risk associated with macroeconomic movements in the market. For this, relatively new startups can take the help of investors.
The idea is to create a team that can evaluate any possible risks, like-any disruption in the supply chain, public market risk, online security or any capital related risk.
Note: The team should formulate a proactive response, rather than reactive.
Your primary goal in a situation like this should be to find ways on how to keep the business running.
So, keep these points in mind and be prepared for any uncertain times in the future.