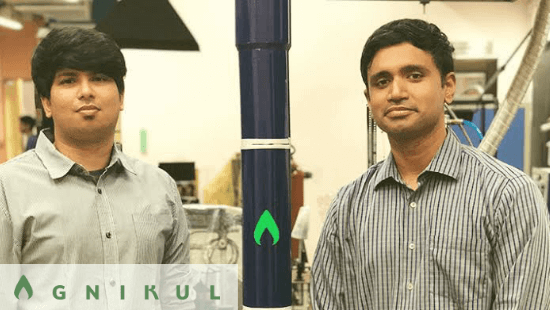 Chennai-Based Space Tech Startup 'Agnikul Cosmos' Builds Agnilet- A Made-in-India 3D Printed Rocket Engine
Agnikul Cosmos, a Chennai-based space tech startup, has developed its single piece, fully 3D printed rocket engine, Agnilet, and its cryogenic pump.
The fully 3D printed rocket engine will be burning kerosene in liquid oxygen.
Founded by Srinath Ravichandran and Moin SPM in 2017, Agnikul is an Indian Space Tech startup, incubated by IIT-Madras. The startup manufactures, designs, tests and launches orbital-class rockets for micro and nanosatellites.
[Read: 
Story Of Indian Space Tech startup Agnikul
]
Talking about the rocket engine, Srinath explained that the rocket engine would be used in the second stage of Agnikul's launch vehicle Agniban.
The launch vehicle has been designed to carry up to 100 kg of payload to low earth orbits of up to 700 km with a plug-and-play engine configuration.
Srinath Ravichandran added,
"The novelty here is that the entire rocket engine is 3D printed from top to bottom. What comes out of the 3D printer can directly be used in the rocket. There is no complexity in assembly or fabrication, and the turnaround time is less than four days."
Need legal assistance for your startup? Just contact us.
Follow us and connect with us on Instagram, Facebook, and LinkedIn.