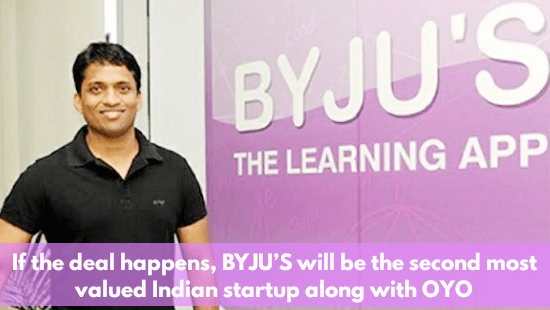 BYJU'S To Enter The Decacorn Club, In Talks To Raise $400 Mn At $10 Bn Valuation
Since the lockdown has begun, EdTech startups have seen a high demand. And during this time, Edtech startup BYJU'S is all set to continue its EdTech dominance and is on its way to becoming India's Second Most Valued Startup.
As per reports, BYJU's is said to be in talks with undisclosed investors to raise around $400 Million at a $10 Billion valuation.
If the deal happens, BYJU'S will join OYO at the second spot to become India's second most valued startup.
Presently, FinTech Startup Paytm is the most valued Indian startup with $16 billion valuation.
BYJU's, which operates in the K-12 learning segment, said it had recorded a 150% increase in traffic in March and added 6 million new students during the period.