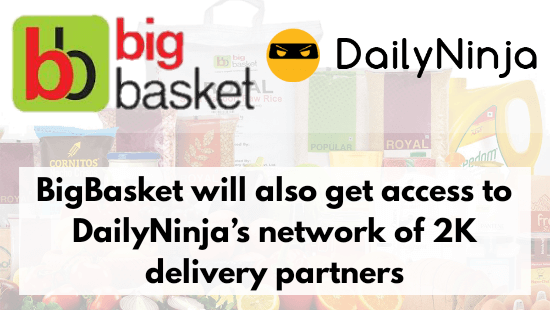 BigBasket Acquires Online Milk Delivery Startup Daily Ninja
Grocery delivery platform BigBasket has acquired DailyNinja, an online milk delivery service. 
This acquisition will help BigBasket to take a step forward in the subscription delivery space. Also, BigBasket will be able to add value to its BBdaily milk and subscription business, as BigBasket is also getting access to DailyNinja's network of 2K delivery partners.
As per the company, this acquisition will help this grocery delivery platform to grow its BBdaily network by 150 to 200%, within the span of 1 year.
On acquiring DailyNinja, Hari Menon, co-founder and CEO of BigBasket, said,
"Business with small traders is a key and growing part of BigBasket's business. DailyNinja currently has a large network of milkman partners which will enable us to expand our offerings under BBdaily."