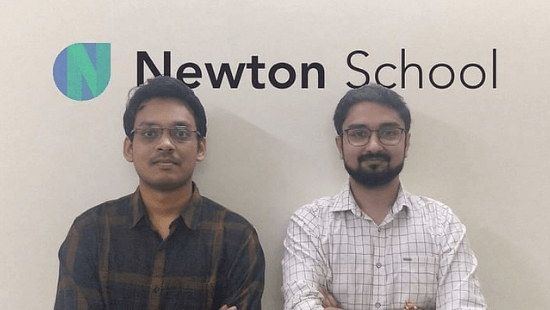 Bengaluru Based 'Newton School' Raises Rs 36.64 Cr In Series A Funding Round
Newton School, a pay after placement online coding trainer platform, has raised Rs 36.64 crore in its Series A round led by early-stage VC firm RTP Global.
The funding round also saw participation from Nexus Ventures, AngelList along with seven individuals.
Started in 2019 by Nishant Chandra and Siddharth Maheshwari, Newton School is a Bengaluru-based online edtech platform that provides industry-standard tech courses, that you pay for only after you get a job.
As per regulatory filings, Newton School has allotted 5,964 Series A preference shares at an issue price of Rs 61,627 per share to raise the sum.
RTP Global has infused Rs 22 crore, Nexus put in Rs 9.15 crore, and existing investor AngeList participated in the tranche with an investment of Rs 1 crore.
Kunal Shah (CRED founder) has invested Rs 36.63 lakh whereas Girish Mathrubootham (Freshworks founder) has also participated in the round with Rs 73.27 lakh.
Gaurav Munjal, Roman Saini and Hemesh Singh (Unacademy co-founders), who are early backers of Newton School, have collectively invested Rs 40.18 lakh, while Sujeet Kumar (Udaan co-founder) has poured in Rs 73.27 lakh.
Singapore-based Redbrook also infused Rs 73.27 lakh.
As per entrackr, Newton School has been valued at a little over Rs 149.5 crore in the Series A round.
After the fresh infusion, existing backer Nexus controls 25.72%, whereas RTP Global has acquired 15% ownership, in the Bengaluru-based edtech startup.
Need legal assistance for your startup? Just contact us.
Follow us and connect with us on Instagram, Facebook, and LinkedIn.