This Indian Technology Enthusiast Is Helping Indian Startups Leverage The Power Of AI and Machine Learning
With the growth of the Indian entrepreneurial community, there has been a rapid rise in innovation and job creation. Thinking outside the box and looking to set up a startup, young Indians are choosing entrepreneurship and creating employment opportunities.
Time tested their passion, and even at the time of high uncertainty, like the COVID-19 pandemic, Indian entrepreneurs showed their mettle.
Dedicated to this entrepreneurial spirit, The StartupLab brings the Indian entrepreneurial community some inspiring and motivational interviews from the entrepreneurial ecosystem.
For this interview, The StartupLab reached out to Janit Anjaria, a Senior Engineer with the Autonomous Vehicle Maps team at Aurora, a leading autonomous trucking company in the US founded by ex-Tesla, Waymo, and Uber leadership.
In this interview, Janit shares insights into his AI, Big Data and Machine Learning journey while enabling businesses to reach their potential.
About Janit Anjaria:
Before Aurora, Janit was a part of the team at Uber ATG. While working in the industry and conducting research at the University of Maryland, Janit has been a part of building foundational technology at various venues. He has helped build the technology building blocks for multiple startups in India and the US, which are now thriving businesses.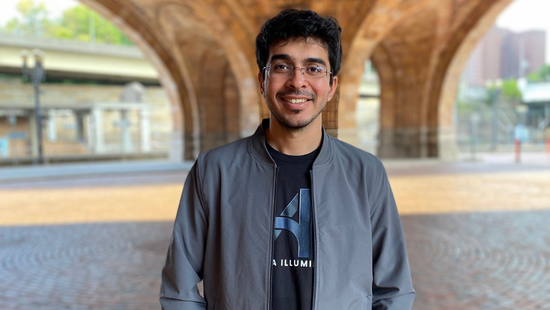 ● How did you start your journey in building technology?
I was always fascinated by how intuitive software has so much logic to augment human abilities by improving efficiency and maximizing human potential. It initially sparked my interest in software, and as an undergraduate at NIT Surat, I got the opportunity to work on exciting robotics projects earlier during my engineering.
This kept me motivated, and later I moved from working on hardware and software to focusing on building intelligent systems. Apart from this, being knit with the local developer community and training students and engineers have helped me pick up business skills and build scalable products.
Being from the part of India where entrepreneurship is a norm, it has always been a passion to build something on my own. I have had my failures at it. My failed attempts at starting up and later successful launch of various technological products at Flipkart made me confident to help others build companies they wish to develop.
However, I have been fortunate to have worked in helping build technology at Flipkart, Uber Advanced Technology Group (Uber ATG) and now at Aurora Innovation Inc. My experience in AI and Machine Learning has spanned across industries from consumer internet to building self-driving trucks at Aurora Innovation Inc., enabling me to help companies build from scratch and consciously to a sustainable scale.
● What are the key contributors to building your expertise in Artificial Intelligence, Big Data and Software Engineering?
My experience building clean software and the desire to always jump into the deep in building something have played a vital role in my learnings. My work at Flipkart was a similar experience; we solved some of the most challenging Natural Language Processing (NLP) problems for understanding Indian addresses, and the most crucial part was to scale it to the millions of Flipkart users.
This experience taught me immense depth in solving problems in AI and building scalable systems. Second, my time in academic research at the University of Maryland, Uber ATG and Aurora Innovation Inc. has helped me develop my technical expertise for solving challenging Artificial Intelligence problems and contributing to the growth of businesses. And probably the most important is being involved in developer communities. Experiences in these communities allowed me to help others grow their products while learning about technology.
● How do you fit into the startup scene for India and globally?
I think this is closer to me than you would think. Being experienced in building systems and solutions from scratch in AI, Big Data and Machine Learning – I have been able to mentor multiple startups from the ground up. The satisfying part is my learning about technology and business across various industries, including core services, EduTech, Developer Platforms, and Logistics.
I initially helped build from scratch with the Founders in all of these instances and later have moved to a Technical Advisor role. The fascinating part of such fast-paced environments is how I can satiate my desire to dive into the deep end to solve production issues for them while still providing high-level technical direction. It is incredible and humbling that I can use my technical expertise in AI, ML, Big Data and Software Engineering, in general, to help these businesses grow.
● What advice would you give someone starting to build their technology at a startup?
Based on my experience in and with startups of various sizes – the most significant challenge remains to balance product and scale. The technical problems can either be ML and Data related or Systems.
For problems related to Machine Learning and Big Data, it boils down to saying if the data you have is enough or not. So there are three main takeaways – do not assume that the fancy platforms and algorithms will solve your problems, always know what you are measuring for the solution and how it translates to the business impact and always trust the data.
From a systems standpoint, it is essential to continuously ask if the solution is meeting scale requirements with minimized maintenance overheads. As engineers, we tend to always over-optimize, but sticking to the fundamentals of building software and validating your solutions is vital. It is crucial as engineers always to be mindful if it is essential to use that new shiny library or compute platform. Premature scaling is risky.
● Any advice for the young folks just coming out of college?
Based on my experience, one piece of advice I would provide to folks coming out of college is always to prioritize learning over anything. As a young engineer, it might be the best time to be able to learn quickly and deeply and apply your skills to problems that impact the larger community while creating massive business impact.
Getting hands-on and getting your hands dirty with frameworks and tools like PyTorch, Kubernetes, and tools for MLOps like Kubeflow will teach you more than just reading about these. Having worked with so many startups and helped them build technology and grow their engineering teams -one obvious piece of advice now is how important your experience and skill will be, rather than a shiny number on your offer letter.
Follow us and connect with us on Instagram, Facebook, Twitter, and LinkedIn.
Note: If you are a budding entrepreneur and require assistance in new company registration or other startup related legal services, contact us.