This Social Entrepreneur Is Helping Women Micro-Entrepreneurs To Achieve Social And Economic Independence
Startups are not just newly founded companies but are companies that are motivated to redefine the industry.
Some startups not only want to redefine the industry but want to make an impact on society with their services as well. 
Driven by the vision to serve society, today's startup story is about a Social Impact Startup, known as Arth.
Arth is working with a vision to build and support the livelihood goals of women micro-entrepreneurs and helping them achieve social and economic independence.
Startup Story: Arth | Helping Micro-Entrepreneurs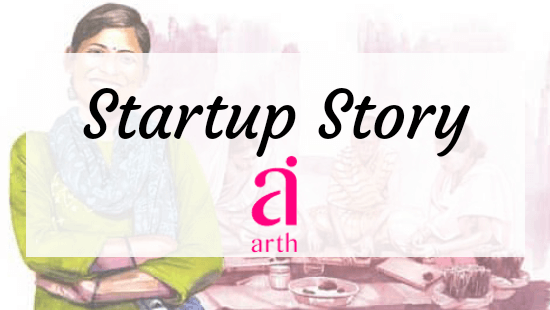 Arth is a social impact startup that provides access to credit and welfare services to micro-entrepreneurs in rural India.
Founder of Arth
Arth is a Delhi-based social impact startup and was founded by Shweta Apremeya in 2015.
How Arth Started?
Shweta Apremeya has working expertise of 15 years in the payments and lending space. With years of experience, she realized Micro-entrepreneurs don't get credit easily and are oftentimes ignored by the banks.
She also came to know that the majority of these entrepreneurs are women. So, she started ARTH to help micro-entrepreneurs, especially women micro-entrepreneurs in rural India.
USP Of Arth
Arth follows a neo-rural-finance model to provide its services to micro-entrepreneurs, especially women in rural areas.
Arth is working with a vision to redefine the way micro-entrepreneurs in rural India get financial assistance for working. Arth solves this problem by providing these micro-entrepreneurs facility to get credit and welfare services.
Talking about the finance model of the startup, the founder said,
"The model is a combination of deep branch network supported by end-to-end digital processes that are user-friendly, and allow for a scalable way to identify customers and offer services to them."
Present Situation Of Arth
Arth has expanded rapidly since the day of its launch. Presently, Arth has served 500+ locations and has covered 623+ villages across the northern regions of India. Arth employees use mobiles to generate loans for micro-entrepreneurs in the villages.
Arth has 10 branches and access to 3.5 million micro-entrepreneur. It has served over 200,000+ customers, with 50% of them are repeating.
Till now, Arth has given more than Rs 25 crore worth of microcredit to micro women entrepreneurs in rural areas.
Future Plans Of Arth
Having served more than 15,000 women micro-entrepreneurs in rural areas, Arth plans to enter new areas across India with its branch model.
Shweta Apremeya said,
"The model is built for scale, and the economics is dependent on the volume of the outreach to rural women. The more number of women that take microcredit and financial services products from us, the more it helps us make revenue and reach financial viability."
Read: This Bangalore Based Startup Is Leveraging Its Network Of Home Chefs To Prepare And Deliver Home-Food
Read: Startup Story: FITSO | Redefining Sports
Want your startup's story to get featured? Contact us.
Stay close to the Indian Startup Ecosystem on social media, connect with us on Instagram, Facebook, and LinkedIn.