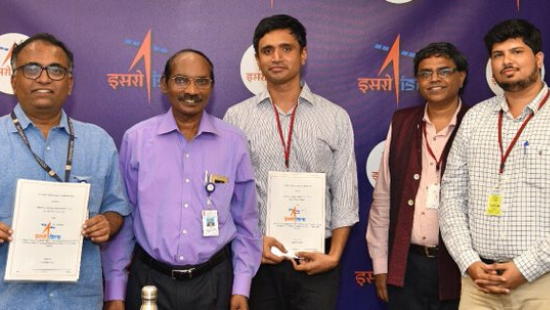 Spacetech Startup Agnikul Cosmos Signs Deal With Dept. Of Space For Access To ISRO Facilities
AgniKul Cosmos, a Chennai-based spacetech startup, has signed a memorandum of understanding (MoU) with the Department of Space to access ISRO's facilities and expertise.
With this deal, the Chennai-based spacetech startup can avail ISRO's technical expertise for testing and qualifying the startup's space launch vehicle systems and subsystems. Additionally, this deal will allow AgniKul to undertake tests for its single-piece 3D-printed semi cryo engine and other systems.
The spacetech startup met Dr. K Sivan (Secretary, Department of Space), who "assured all support from DOS for qualifying Agnikul launch vehicle systems."
AgniKul Cosmos | Bringing Space Within Everyone's Reach
Launched by Moin SPM, Srinath Ravichandran, and Professor SR Chakravarthy in 2017, AgniKul Cosmos is an IIT-Madras incubated spacetech startup that manufactures, designs, tests and launches orbital-class rockets for micro and nanosatellites.
Its core product, Agnibaan, has been designed to carry up to 100 kg of payload to low earth orbits of up to 700 km, with a plug-and-play engine configuration.
"Humbled to sign this MoU with the Dept. of Space which will formally enable us to go forward with our testing plans at ISRO. With this level of Govt. support, low earth orbit does look close," AgniKul Cosmos shared the news from its Twitter handle.
Earlier in May 2021, Agnikul Cosmos raised $11 million in its Series A funding round led by Mayfield India, with participation from existing investors, including pi Ventures, Speciale Invest and Artha Ventures.
Additionally, in January 2021, the IIT-Madras incubated spacetech startup test-fired the world's first 3D printed rocket engine Agnilet.
Recently, the Department of Space had also signed a similar deal with Hyderabad-based space tech startup Skyroot Aerospace to give it access to ISRO's facilities and expertise.
For more stories of startups, click Startup Stories.
Follow us and connect with us on Instagram, Facebook, Twitter and LinkedIn.