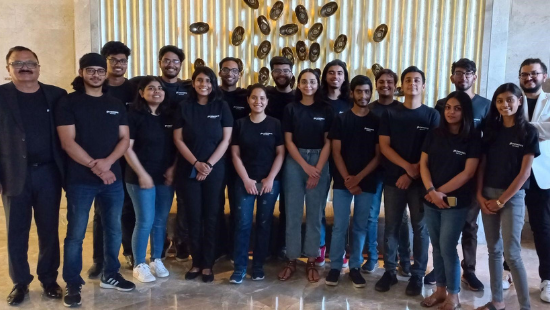 Newzera: The Future Of Social Networks And News
It's no mystery that the notion of entertainment and how we consume media have changed radically in the last two decades. Although consumption patterns have changed along with technology advancements, those patterns are not consistent across generations.
Generation Z strives for bite-sized, easy-to-consume news that goes beyond seeking just facts. But social media today is filled with fake news, politically skewed information, clickbait, opinions over facts, influencers who twist facts to gain likes and comments, and much more.
Introducing Newzera, a homegrown startup offering a new format of news. It is a modern social network designed exclusively for news consumption for Gen Z.
Newzera | The Ultimate Solution
Newzera is the brainchild of Shrey, a dual degree holder in computer science from one of India's top colleges, IIT Kharagpur.
Shrey and his team of extraordinarily brilliant software engineers, journalists, writers, and designers are all working together to create Newzera-a one-stop destination for all social news experiences.
Newzera, a platform designed specifically for Gen Z, generates news using human-centered AI, providing an intelligent and effective solution to restore the news generation and consumption cycle.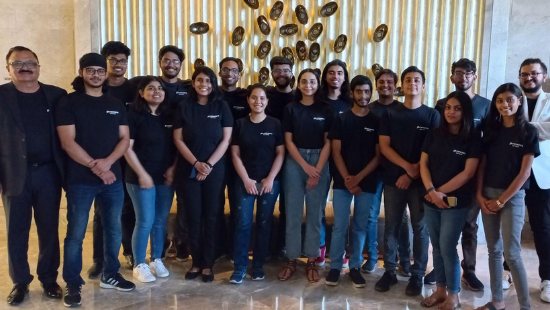 Starting Point
After honing his academic skills, Shrey went on to work for some of the most intriguing companies, collaborating with some of the brightest minds at Pinterest and Amazon.
But, being an innovator and an Indian at heart, he packed his bags and returned home to achieve his aspirations of creating a better world and revolutionising the meaning of news.
"Today, Gen Zers don't take out time to read the news. Instead, they consume the news on the go. They want the news to be fun, fast, and social. They want to be the first ones to know what's happening and discuss it with their friends. Gen Z is indeed a curious generation," says Shrey Sharma in a conversation with The StartupLab.
USP Of Newzera
Newzera scans the entire web with proprietary deep learning algorithms, condensing the content into short, crisp, and validated updates packed in a new visual card-style format for quick consumption. The news is then condensed into GenZ appropriate formats, from short videos to graphic reporting to audio versions and more.
Newzera replaces repeated news with a never-ending fresh flow of information that better matches the interests of the readers, thanks to cutting-edge technology. To keep up with the top apps that Gen Z utilises, its interface is clean, bright, and contemporary.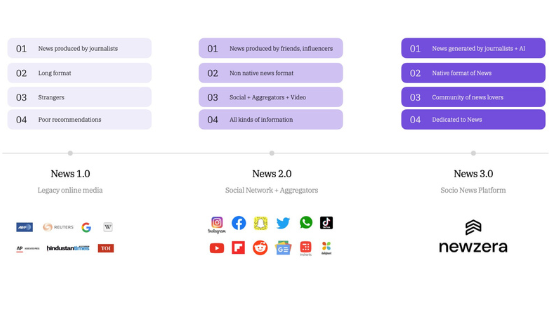 It's not simply the news, technology, or the app's UI/UX that set Newzera distinct from its competitors. Rather, what makes it unique is the combination of all of these features and more to create a network unlike any other, to be the first and only one of its kind to bring News 3.0.
Explaining Newzera in a line, Shrey says,
"Newzera offers what you should know (to an extent), but also what is useful to know, what is interesting to know, and what is fun to know."
Growth And Future Plans:
Collecting its recent achievements, Newzera strives for reaching even more milestones in the coming years. With the launch just around the corner, Newzera is all set to revolutionise the world of social media and news and reach the masses.
Recently, a US-based company named AngelList has included Newzera in its AngelList Early Stage Quant Fund, an initiative by the angel investment platform to scout the only 100 finest startups from around the world early on, with a team of 62 individuals. AngelList also declared Newzera as the best startup globally for the month of March 2022.
You can download the Newzera app by visiting their android or iOS app link. 
Newzera was also recently accepted into NASSCOM's ultra-exclusive Deep Tech Club, which includes just 150 companies from around the country.
After a terrific Alpha launch, Newzera has successfully rolled the carpet for its Early App Users, with more than 10,000 signups in two days. Newzera is set to become available worldwide soon!
Taking growth further, Newzera aims to debut and expand to 1 million MAU in India in the next six months, thanks to aggressive expansion plans. In addition to expanding to English-speaking countries in North America, the firm is trying to extend outside English-speaking regions by adding options for vernacular languages in India.
Need legal assistance for your startup? Just contact us.
Follow us and connect with us on Instagram, Facebook, Twitter and LinkedIn.