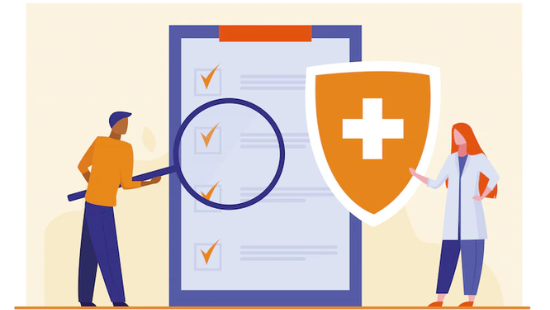 Healthtech India: Difference Between Group And Individual Health Insurance
Health insurance has always been a significant investment, yet few people showed interest in having one. But the recent pandemic alarmed people on the significance of having one. People covered under health insurance managed to escape the brunt of high treatment costs that others couldn't. After the first wave of COVID-19, many people understood the importance of being secured under health insurance and started insuring themselves and their dependent family members for the future.
Also Read – Health Insurance Startup 'Plum Insurance' Raises Rs 30 Crore Funding
If you are willing to cover yourself under reliable health insurance, you have many options to choose from. The two most popular health insurance types available in the market are group health insurance and individual health insurance. Both have pros and cons, so insurance buying decision should only be made after learning about both. To make your work easier, we've curated the only guide you'll need to understand the two and their differences.  
What is Individual Health Insurance?
As the name suggests, individual health insurance is for individuals who want to secure themselves against emergency medical expenses. It is mostly purchased by unmarried people who don't have a spouse or dependent children to look after. Those with a spouse, dependent children, and parents generally pick family floater plans. The best part about any individual health insurance policy is that a person can customize the coverage depending on their requirements. It can also be used as a financial tool if utilized strategically.
You can invest in an individual health policy whenever you want, and it will continue giving you various benefits till you choose to keep the policy active. It can be one of your life's best investment decisions.
Also Read – Bengaluru-based Healthtech Startup Vieroots In Talks To Raise Fresh Funds
What is Group Health Insurance?
If you're working in the corporate world, you would have come across this insurance type. Employers offer it as a part of CTC to show employees they care for them. One can also consider group health insurance as an employee retention tactic by top employers.
A group health insurance refers to the insurance assigned to a group of employees working for the same company. It is paid for by the employer and remains valid until the employee works for the company. Under this policy, all covered employees enjoy standard health insurance benefits at zero cost.
Difference Between Individual & Group Health Insurance
Now that you have a decent, fundamental understanding of group and individual health insurance, let's quickly look at their primary differences.
1. Eligibility Criteria
Anyone with a steady income can invest in an individual health insurance plan. But the same is not the case with group insurance. You can only be eligible for group insurance when you work for a company that offers group insurance as a part of employee benefits to all its employees. If you choose to work for such a company, you will automatically be made a part of the group insurance during your joining phase.
2. Claim Settlement Processes
As an individual health insurance policyholder, you will be responsible for contacting the insurer to file claims. Whether you're raising claim settlement or claim dispute requests, you must facilitate all communications from your end. There will be no intermediary in this process.
But if you're covered under group health insurance, you can contact your HR/employer for claim settlement processes. In group insurance, the HR/employer is the contact point for both insurer and the covered members. One can say that claim settlement processes are simple and hassle-free in the case of group insurance because the HR/employer is expected to do the most part.
Also Read – Report: India Ranks Fourth Globally For VC Investments In Healthtech Sector Since 2016
3. Option to Customize the Policy
People with high medical coverage requirements should invest in individual health insurance plans because of the option to customize them. Since you are paying the premiums, you can add/remove coverage as you like. But the case is the opposite in group health insurance.
Since the employer is paying the premiums, he gets to choose the coverage terms, and employees have to accept them. The coverage terms remain the same for everyone covered in the insurance, and employees cannot exercise control over it.
4. Documentation
One of the most annoying, cumbersome parts of investing in health insurance is documentation. Even though people buying insurance online have minimal documentation to maintain, it gets lowered further down in the case of group health insurance. People covered under group insurance have little to no documentation to maintain for insurance as it is already well maintained with the HR/employer. But if you own individual health insurance, you must keep all the documents.   
5. Option to Use as a Financial Tool
Many people use health insurance as a financial tool because the premium paid towards it can be claimed as an exemption while filing an income tax return. You will have to invest in individual health insurance to claim the premium paid towards health insurance. Since the employer pays premiums under group health insurance, employees cannot claim that amount as an income tax deduction. Moreover, the validity concerns of group health insurance make it unfit to use the insurance as a financial tool.
Also Read – [Healthtech India 2021] Technological And Growth Trends In The Healthtech Industry In India
6. Tax Benefits
If you're paying a premium for individual health insurance, you can get a deduction of up to Rs.25,000 while filing income tax returns. But if you're also paying the premium for your parent's health insurance, an additional amount of Rs.25,000 is allowed for deduction. If your parents are above 60, the deduction of Rs.25,000 gets doubled, and you can claim an additional income tax deduction of up to Rs. 50,000. You can only claim this benefit if you pay individual health insurance premiums. Tax benefits won't be available if you're only covered under group insurance.
7. Validity of the Policy
One of the biggest drawbacks of group health insurance is it gets revoked once you leave your employer. You can only take the benefits of a health insurance policy till it is active. So if you depend only on it for your future medical expenses, you can get in trouble. But if you want coverage that stays with you, irrespective of your employment status or a particular employer, always side with an individual health insurance policy. It will remain valid and active as long as you keep paying timely premiums.
Choose the Best Health Insurance Policy Depending on Your Requirements
Investing in reliable health insurance has become a necessity in today's time. While most people want to invest in the best insurance product, the availability of too many options can confuse many. The group and individual health insurance plans are the most popular of the various available options. Now that you know what both are and how they differentiate from one another, you can make more informed choices. The best part is you can invest in an individual health insurance plan, even if you're covered under group insurance. So if you're ready to welcome a secure future, invest in the ideal health policy today.
Also Read – This Healthtech Startup Is Helping People Stay Healthy With Precision Health Solutions