[Digital Growth Strategy] Useful Techniques To Grow Your Business Digitally
Two things that have helped many businesses to stand out in the modern business era are- Use of technology and digital growth. But, digital growth is impossible if your digital growth strategy is not in place.
Don't you agree with it?
Don't you believe technology has changed the way businesses used to work for a long?
And, don't you think, now, it's hard not to find the use of tech in businesses?
Businesses that are using technology are excelling and growing much faster than businesses that are technologically shy.
Digital Growth Strategy- Do's And Don'ts
Wouldn't it be better if every small business knew how to use technology in its favor and grow its business manifolds?
Yeah! It would be great.
If you are a business owner and want to know the right strategies to grow digitally, you are in the right place.
Today's topic is regarding that aspect of technology, which has brought many businesses close to their target audience and helped them sell more.
Today's topic is about Digital Growth Strategies and various ways it has helped many businesses to grow digitally.
Digital growth is all about increasing your brand awareness, generating people's interest in your brand, and encouraging audience engagement to promote your product or service.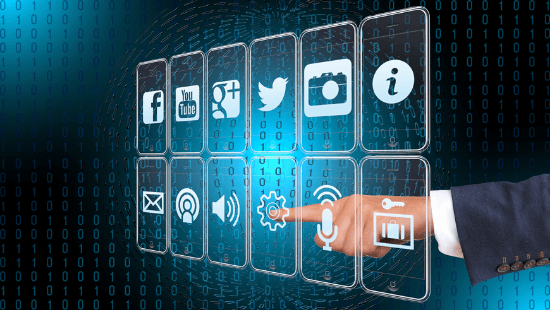 Online growth is also about keeping people close to your brand and make them your customer.
Be it a small business or a big organization, companies that are using any digital media are growing faster. It takes the right set of strategies to leave an impact on your potential customer, and make them buy what you are selling.
In this blog, we will cover various steps that you can implement to grow digitally and make your business stand out among your competitors.
Before going straight to the how part, let's first talk about why we need to grow digitally.
Need For Digital Growth Strategy
If you are reading this blog, it's quite evident that either your business is not digitally present or you are not using the power of digital media/ social media right.
In both cases, you need to know that your efforts should be focused on places where your customers spend most of their time.
And in present times, people spend most of their time online.
Not only potential customers, but your competitors are online too.
Being present online makes your business easily accessible to customers. And the lesser the resistance, and more the availability of your business, among the consumers, the easier it will be to acquire a potential customer.
Also, by being present digitally, you can analyze customers' expectations by their ongoing engagement with our brand, your products, and services.
So it's quite clear that digital growth, in present times, is a very important aspect of growing a business.
Now, the question arises on how to use digital media in the right way that it brings both value and credibility to your business.
How To Use Digital Media In the Right Way
Before unleashing the power of digital media to grow your business, take your time, and decide what you want to achieve by being present digitally, what's your target audience, which social media platform they are mostly using.
Don't form your digital growth strategy in a rush.
For instance, each social media platform has its own set of users.
Like, Instagram is most popular among younger users, and 67% of its users are 18 to 29-year-old.
LinkedIn is suitable for B2B businesses. And, as per recent statistics, 80% of B2B leads generated on social media come from this platform.
Remember that digital growth depends on using platforms that bring your brand closer to your target customer.
Also, read: Startup Marketing Guide.
Here are the strategies that you should use to achieve digital growth in your business.
Be Present On Social Media:
Being present on social media helps in increasing the visibility of your brand and encouraging audience engagement.
By using platforms like Fb, Instagram, LinkedIn, Youtube, Pinterest, Quora, etc one can reach several potential customers.
As per statistics, 71% of consumers recommend the brand to their friends and family who have had a positive experience with a brand on social media.
But if you are not present on social media, you are leaving a huge chunk of potential customers to your online competitors.
Make Your Website's Content Precise And Understandable:
When someone visits your website, you have limited time to gain their attention. That is the reason your website's content should be on point and engaging.
Your content should make it clear to the visitor the- why, what, and how of your business.
This includes what you do, why you are doing it, and how you do it.
Try to make the journey of the visitor as simple and clearer as possible. Also, use proper call-to-action on your website.
In short, your website content should be precise, understandable, and readable to the visitor.
Provide Quality Content For Digital Growth:
Providing quality content to your target audience helps in building authority. By quality content, we mean content that provides information, solves a problem and is relevant to your target audience.
Therefore your aim should be to provide content that brings value to your target customers. Also, putting out quality content, consistently, characterizes someone as an expert in their industry.
Use A Relevant Lead Magnet:
A lead magnet is an offer that businesses use to get information about a website visitor/ potential client. This information generally includes email or phone number.
Lead magnets usually involve relevant digital downloadable content, like an eBook, product sample, template, report, training video, etc.
Create a lead magnet as per your target audience and make it informative and valuable.
Remember that digital growth doesn't require a lot of money. It mainly depends on the quality of your content. And the more value your content provides to your target audience, the more authority you will gain from it.
Just make sure to produce content tailored as per your target customers. Try to be present on multiple social media platforms but focus majorly on those platforms where they spend most of their time.
Be consistent in your efforts, and soon you'll see your sales increasing.
Read: Indian Startup Stories