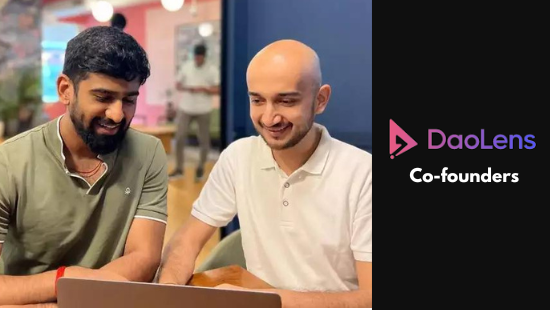 DaoLens Raises Undisclosed Amount In Funding From 46 Investors
B2B decentralised autonomous organisation (DAO) service provider DaoLens has raised an undisclosed amount in funding from 46 investors.
These investors include CoinDCX Co-founders Neeraj Khandelwal and Sumit Gupta, and Nazara Technologies CEO Manish Agarwal, among others.
Last month, DaoLens raised $5 million (about Rs 39 crore) in funding led by Nexus Venture Partners. The round also saw participation from angel investors like Balaji Srinivasan and Polygon's Co-founder-Sandeep Nailwal. As per the startup, the latest funding round is an extension of the previous funding round.
DaoLens | Decentralized Revolution
Founded by Vikram Aditya and Apoorv Nandan in January 2022, DaoLens is a web3 startup working towards bridging the contributor gap problem around Decentralized Autonomous Organizations (DAO).
It is eyeing to simplify how DAOs function through a suite of tools aimed at facilitating the discovery, onboarding, and contribution processes between DAOs and their community members.
Speaking about the development, Vikram Aditya, Co-founder of DaoLens, said,
"To build a DAO-first world, we need to simplify the way DAOs operate – in terms of contribution and management. DaoLens wants to solve the fundamental bottlenecks in the system so DAOs can become mainstream and a sustainable option for companies in the long run."
As per the startup, it will be dropping one-of-its-kind, non-transferable non-fungible tokens (NFTs) to a select few investors today.
The web3 space has been getting a lot of traction in recent times. In April 2022, Web3 platform Ethereum Push Notification Service (EPNS) raised $10.1 million in Series A funding led by Jump Crypto at a valuation of $131 million.
DCX Venture, the corporate venture arm of CoinDCX, has backed multiple startups in the web3 space and is also investing in education and building an innovation centre to develop products in the web3 segment.
Follow us and connect with us on Instagram, Facebook, Twitter, and LinkedIn.
Note: If you are a budding entrepreneur and require assistance in new company registration or other startup related legal services, contact us.