Cloud Gaming Platform The Gaming Project Raises $500,000 In Seed Funding
The Gaming Project, a cloud gaming platform, has raised $500,000 in a seed funding round led by Faad Network. Upsparks, BlackKite, SucSEED Indovation Fund, MaGEHold and Hem Angels, and several other investors also participated in the funding round.
As per the startup, the freshly raised funds will be used to expand its services across India and platforms.
The Gaming Project | Cloud Gaming Service
Founded by Manan Mittal and Sarang Atri, The Gaming Project is democratizing access to video games with its cloud gaming platform, allowing users to play such games on mobiles and laptops.
Speaking about the development, Sarang Atri, Co-founder of The Gaming Project, said,
"Our entire goal up until our first raise was to make sure we spend as few resources as possible, but at the same time achieve a product-market fit that is appreciated by everyone in the gaming community and actually answer the question of whether cloud gaming is possible in India or not."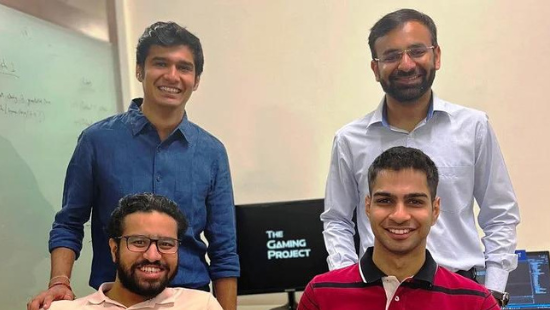 The startup went live in 2020, and since then, it has onboarded over 300,000 users on the platform and claims to have a steady revenue month-on-month. 
Faad Network is a sector agnostic early-stage investor network that invests at an angel stage & co-invest at Pre-Series A stages with a ticket size of $50,000-$1 million. So far, it has invested in more than 45 startups, including Cleardekho, Tattvalogy, Microfinance, ESportsXO, CareerNinja, MedDelivery, Saarthi, Autocode, Huviair, and BluSmart, among others.
Commenting on the development, Aditya Arora, chief executive officer, Faad Network, said,
"With over 100 million online gamers, India alone is a two-billion-dollar market opportunity for the eSports industry. This market could be further extended if there is a solution built for smooth streaming without buying any expensive gaming rig. This is where our thought school aligned with what Sarang and Manan are building at The Gaming Project." 
The Indian online gaming segment is expected to more than double at Rs 29,000 crore by FY25, according to a report by KPMG.
Need legal assistance for your startup? Just contact us.
Follow us and connect with us on Instagram, Facebook, Twitter and LinkedIn.