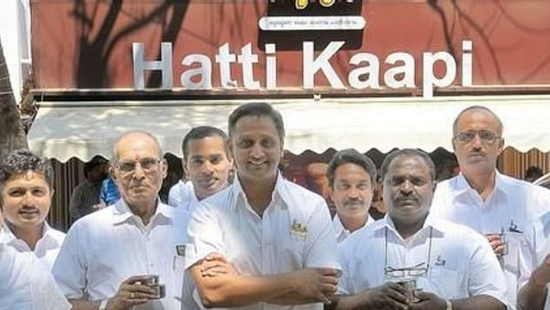 Bengaluru-based Coffee Brand Hatti Kaapi Raises Rs 10 Cr In Pre-Series A Funding Round
Hatti Kaapi, a Bengaluru-based authentic coffee brand, has raised Rs 10 crore in a pre-Series A funding round led by BlueWolf Capital, Investribe, Kochi Holdings, and CreedCap Asia.
As per the coffee brand, the raised funds will be used to expand the brand's retail and cloud footprint to over 200 stores from the existing 115 outlets. Additionally, Hatti Kaapi will use the fund to scale up its ready-to-use product portfolio under the 'Six Seconds' line of products on both online and offline channels.
Hatti Kaapi
The coffee brand sources its beans from the plantations nestled in the traditional coffee-growing regions of southern India. Hatti Kaapi directly works with selective estates to ensure the consistency and quality of its beans.
Talking about the funding round, U S Mahendar, Chairman and Managing Director at Hatti Kaapi, said,
"F&B industry is one of the worst affected sectors because of the ongoing pandemic. Being one of the top performers in our segment also has to bear the brunt of COVID-19 forced shutdowns. Thus, this fresh round of capital infusion through fundraising makes it more special. It showcases our understanding of the ground realities and the agility to adapt to the changing scenario."
Amid the COVID-19 led restrictions on movement, social distancing, and WHF impacted physical stores' walk-ins, the coffee brand introduced contactless kiosks, which cater to the requirement of the present day. Hatti Kaapi also launched its new line of ready-to-use products — Six Seconds-ready-to-use Filter Coffee Decoction, immunity booster drinks like Kashaya (spices mix) and Golden Latte (Turmeric mix), and Ooru (coffee powder brand for the mass market).
Recently, there has been a trend in the ready-to-drink coffee and tea segment. Tea Bro, a new entrant in the ready-to-drink tea segment, offers Pre-Brewed Tea Liquid Decoction. The D2C tea startup controls the entire supply chain of tea farming- right from farming, processing, blending, packaging, retail and exports.
For more stories of startups, click Startup Stories.
Follow us and connect with us on Instagram, Facebook, Twitter and LinkedIn.